AboutUs
Where We Are
Philosophy
Gallery
ContactUs
News
Links
Sport Page
Kadi Mae
Rusty Rhen
Lobster Fishing
Tuna Fishing
Tides&Weather
National/International News
Local News & Events

July 19, 2002 (Friday)
Wonder of wonders... Doug and Carol are getting married! Yes you read it correctly... and remember you read it here first. The self proclaimed bachelor who said he never would... is! The numerolgists out there can figure on a 21/3 date (based on 07192002)... you know who you are!

May 1, 2002 (Wednesday)
Eating Lobster!

April 30, 2002 (Tuesday)
Set day! Monday was rough... but we got the job done today. One boat lost/sunk while setting traps on Monday. Good luck everyone on a good year! Thanks to everyone that helped!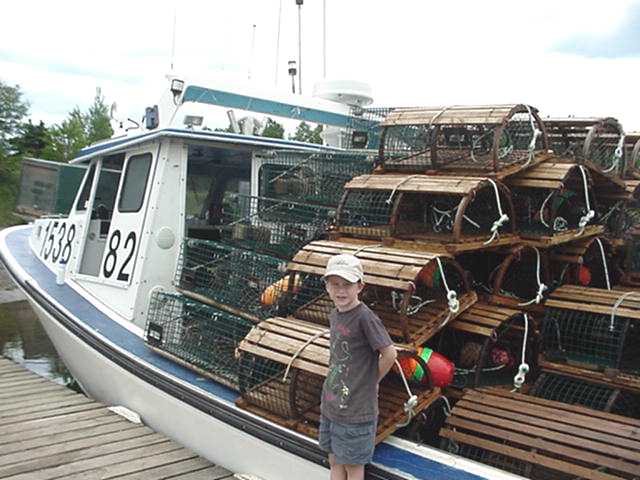 Gear goes into the water (subject to change due to ice and weather conditions). Full moon on the 27th (Saturday).

April 17, 2002 (Thursday)
The town of Antigonish has hired a high powered lawfirm from Lower Water Street Halifax in their struggle with Doug and postponed the inevitable until May 18th(?). How does all this relate to KadiMae Enterprises you ask? Well the whole incident began that fateful evening of lobster and merryment last summer at the Beaton estate. Upon returning from this joyous occasion around midnight Doug and Carol discovered that their basement was filled with water... the town's water meter had burst and there was 3 or 4 inches of precious H20 covering the entire basement (even the adjoining apartment). Needless to say it was a sleepless night for they and their tenants.. and a very costly cleanup... over $2500. Insurance paid for everything except a $500 deductable, which Doug asked the town to pay. They refused in a very unpleasant correspondence and that was how the whole thing got rolling.

April 11, 2002 (Thursday)
Did Doug win his gallactic legal struggle against the town of Antigonish? Has "Justice" been served? Can he possibly, with a genuine and true heart invite the mayor of Antigonish to his wedding this summer... and look her in the eye? Stay tuned as this modern day "David vs Gollieth" story unfolds here in an exclusive interview with South Side News.

April 9, 2002 (Tuesday)
Slap Shot Tribute "I was trying to capture the spirit of the thing." - Dickie Dunn to Reg Dunlop, 1977
New addition to the site... a "Tribute to Slap Shot" is now on our site (Click here or visit the SportsPage). I hear that Pat C. has already seen it and says it is hillarious (maybe it was just the beer)... other hardcore Slap Shot fans are mixed on it... some hate it and want it banned, while others (like Pat) under the influence, think it was great! Just remember it's not real life... so lower your expectataions... get a few cases of Olands, lots of junk food (maybe I have that backwards) and go out and rent this gem/bomb before it is too late! But whatever you do... go see our newest addition by clicking on the photo below (lots of photos and sound clips from Slap Shot).

The Hanson's handywork!

April 5, 2002 (Friday)
Hey, hey, hey, heyyyy... it's Kadi's 11th Birthday! Congradultions Kadi... hope you have 200 more!